Co - producers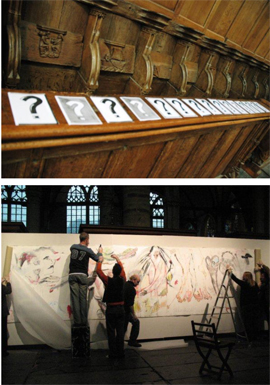 2009 IFAA Amsterdam
Host organization – AIR (Stichting Art in Redlight)

The 2009 IFAA in Amsterdam and Art, Migration and Identity travelling exhibition was hosted by AIR (Stichting Art in Redlight) partner of the 2008 IFAA in collaboration with Thamgidi Foundation. This included: a residency for a public space project with artist Bright U. Eke. The big installation made out of 7000 bottles was built outside the Old Church entrance located at the Red light district in Amsterdam.

The 2008 IFAA also included a 3 day table of discussions with the Apes Container. Besides this AIR (Stichting Art in Redlight) brought the complete 2008 IFAA exhibition works that were produced by 2008 IFAA participating artists - among them was the late Frank van der Weide, a renowned artists from Arnhem who due to illness could not take part in the residency. The exhibiting artists included Pelagie Gbaguidi, Kevin Dalton Johnson, Misheck Masamvu, Bright Ugochukwu Eke, Keiko Sato, Teresa Maria Diaz Nerio, Alite Thysen, Aref Damee, Bill kouelany, Rob Sweere, Frouwkje Smit, Nkosikhona Ngcobo, Cheikhou Ba and Andrea Stultiens. The three weeks exhibition in Amsterdam brought about 8000 visitors with 6500 of which were paying visitors..


Funding Partners

2009 IFAA Amsterdam