The Residency & artists activities that took place in the 3 months period
The three months artists in residency brought together top artists from different parts of Africa, the Diaspora and the Netherlands. Most of the participants were internationally renowned artists who have won many prizes including the ResArtis prize, Full Kaad scholarship-Kunst Academie Munich, Unesco Aschberg prize etc. Most of the artists are actively involved in international projects, with some having exhibited in top exhibitions including; Documenta, and the Dak'art Biennale just to mention a few. Among them were the jewels of Gelderland who included; Rob Sweere, Keiko Sato, Frank van der Weide, Aref Damee, Frouwkje Smit and Andrea Stultiens.
The residency began in the month of September and ran to the end of the Festival. The work produced during the residency was later shown in different locations including:

• The museum of Modern Art in Arnhem
• CBKG Arnhem & Nijmegen
• Afrika Museum
• Paraplu Fabrik
• IFAA temporary gallery
• Boekhandel Hijman Arends
• Lux public space
• And Presikhaaf shopping mall.


Artists in their studios


Reflection on the artist in residency:
During Ifaa 2008 I shared a studio with Mansour Ciss Kanakassy. We talked a lot about our work and found out we have several shared interests. One of them is the representation of identity in photographs or rather its impossibility. Mansours' 'New Bantu's' and my 'Masks' both address this in different ways.
Mansour and I started a big work together. This will be a long term project based on the heritage of Mansours' late wife Gudrun Lohrmann Ciss'. I am looking forward to the rest of this project.
A lot of the most interesting collaborations and sharing of ideas did not happen in the studio's but (of course) in the kitchen. Here Kevin Dalton-Johnson told me about the tin box with cliché's that he bought on a flea market in England. The box is filled with cliché's once used to illustrate children's books. Kevin uses the cliché's in his work and gave me the chance to also work with them. I selected, printed, and scanned them. Giving the children on the cliché's their own universe in which they develop from abstract representations of the human body, to part of a fairy tale about misplaced little girls and animals.
The participating artists included:
IFAA international Participants
• Bill Kouelany: Brazaville, Congo
• Bright Ugochukwu Eke: Nsukka, Enugu, Nigeria (Lagos)
• Cheikhou Ba: Dakar, Senegal
• Pélagie Gbaguidi: Benin, Brussels, België /France/Benin
• Misheck Masamvu: Harare Zimbabwe
• Mansour Ciss Kanakassy- Senegal
• Nkosikhona Ngcobo- South Africa
• Kelvine Dalton Johnston – England
Participants in the Netherlands
• Alite Thijsen- Netherlands
• Andrea stultiens-Netherlands
• F.E. van der Weide-Netherlands
• Keiko Sato-Japan/Netherlands
• Rob Sweere-Netherlands
• Aref Damee-Afganistan/Netherlands
• Teresa Maria Diaz Nerio-Dominican Republic/Netherlands
• Frouwkje Smit Netherlands
Artists presentations & weekly discussions
Exhibition tour & meeting with IFAA partner institutions to see IFAA exhibition venues and technical assistance work spaces.
Life in the Granat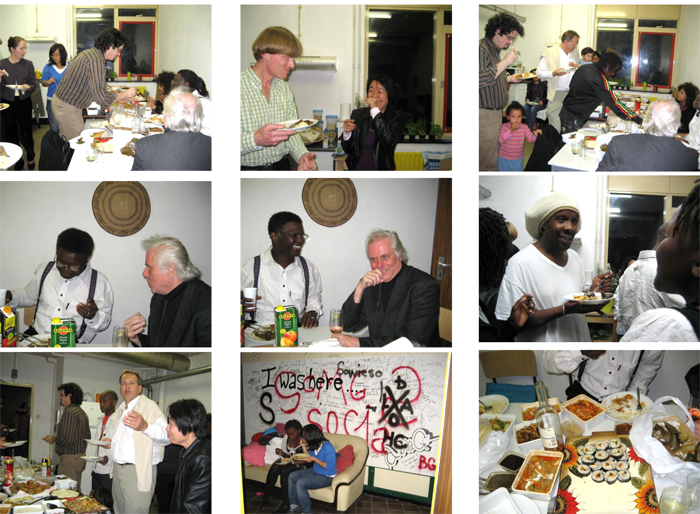 Program