IFAA Outreach Program


ART & YOUNG PEOPLE
Created for building and sharing knowledge with and among young people is part of Thamgidi Foundation's educational program which was introduced to the IFAA Outreach program in order to stimulate creativity that engages all ages in the arts. This program was introduced to the IFAA project because Thamgidi Foundation believes that it is essential to give young people a voice.
Since creativity allows us to discover our full human potential, it is thus of great importance to put it at the core of human development. By using the arts to stimulate creativity, we give young people a place where their talents are stimulated and valued - a place where they can experiment, dream and realize their aspirations.
By introducing them to different art disciplines, we give them an opportunity to discover the un- imaginable, that in turn pushes their boundaries and inspire them to reach out for more.
The arts strengthen the creative voices of young people and help them navigate through life. It at the same time helps them deal with challenges of growing up: fear, social pressure, exclusion and insecurity, by bringing them together with like-minded people in a safe, creative, inspiring and supportive environment. It is with this in mind that Thamgidi Foundation puts its emphasis on developing projects that strengthen the awareness of the role art plays in the development of our societies.
Since young people are tomorrow's leaders – decision makers and keepers of our cultural heritage, realizing and acting upon the urgency to strengthen creativity through art education from an early age, better equips our next generation of leaders and creates societies that value intellectual activity and protect arts and culture.
The Art & Young People outreach program thus creates opportunities for young people to express themselves, come into contact with other cultures, learn new skills and deepen their knowledge in different art disciplines. It at the same time gives artists the opportunity to impart their knowledge.
Since 2008 IFAA artists give workshops to young people in primary and high schools. The given disciplines include: painting, ceramics, multimedia, public art projects, installation art, recycling projects, dance, music, performing arts and photography. The workshops however vary as they depend on disciplines of the guest / participating artists.
The IFAA 2008 Outreach program began with a youth traveling exhibition 6 months before the IFAA project began. This was realized through a partnership between Thamgidi Foundation, Europe Direct de Biblioteek Arnhem and IFAA 2008. The exhibition travelled to 6 National libraries across the Netherlands and ended with a huge exhibition that included works made from 11 schools in the month of October and November.
The workshops done in the 11 schools were realized through a partnership between Thamgidi Foundation, Cultureel Platform Lingewaard and IFAA. The 2008 workshops according to Teresa Di Micco di Santo from the IFAA team "opened a world of discovery to the young minds. From their side, the students enthusiastically showed their artistic talent and their sensitivity to those fields". Making the workshops a perfect opportunity for young people to experience what being a painter, sculptor and multimedia artist is and at the same time giving the guest artists the opportunity to not only exchange their artistic knowledge but at the same time enter into the world of the young minds.





Workshop by artist Mansour Ciss
Stimulating creativity because the voices of young people also matter! Educating them, creates conscious societies able to safeguard cultural heritage.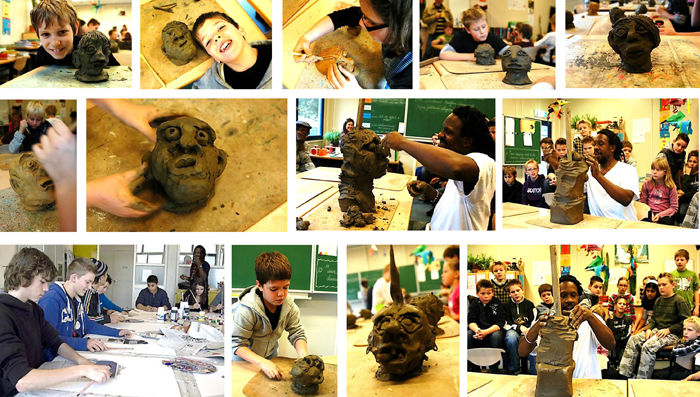 Workshop with artist Kevin Dalton Johnson
Turning classrooms into spaces of creativity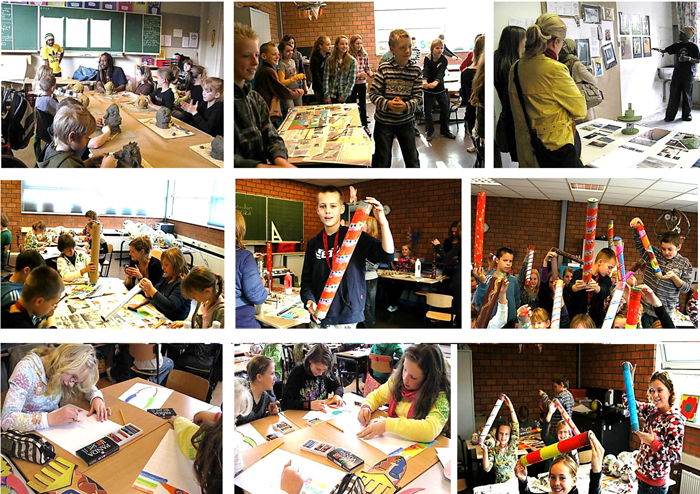 Painting workshop by artist Bill Kouelany
SUPPORTING IFAA

Program