Renowned international artists take part in IFAA 2012 pilot project in Louvain-la-Neuve, Belgium!
The Sender, the Message, the Vehicle and the Receiver
As a journalist I'm considered to be a communication expert. However, we're all skilled in having dialogues with one another, whether we use words, images or physical language. Moreover, we're also very much aware of the errors in our communication. We can all point out the moments when we were misunderstood, ignored or even lied to. During IFAA 2012, I was invited to engage with the residency artists on the theme: Communication, Exchange, Dialogue and Art with the purpose of reflecting on today's society.
Lead more
Interview S'thabile Mlotshwa and Olivië
We at the IFAA Art Platform wish you a very peaceful, healthy and creative 2013. A special thanks goes to the IFAA family whose support made it possible to do the impossible. Looking forward to 2013.
Residency artists
Exhibiting artists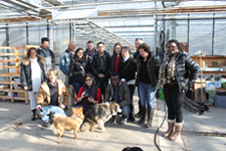 Riche, c'est bien le mot, mais encore plus que ça, j'ai réellement eu l'occasion de découvrir des personnes, des fonctionnements, des mentalités totalement différentes.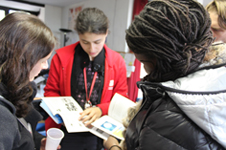 "Je vais donc être concise et laisser plus l'occasion de m'épancher quand on se verra ; du fond du coeur, un énorme merci pour cette expérience.
read more
Artists invited for Site specific works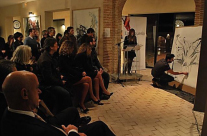 Ivan Izquierdo - Spain
Artists invited for Site specific works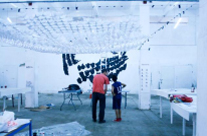 Toufik Medjamia – Algeria / France
We Are The World – a community project by artist Frouwkje Smit


Opportunity - Call to collaborate in a community project with artist
Frouwkje Smit starting at the official opening of IFAA 2012.
Frouwkje Smit is looking for creative people from diverse communities, musicians, poets, and spoken word artists from different parts of Belgium to take part in her project We are the World. If you are interested in taking part in performing a modern version of We are the World then please send mail to Frouwkje Smit: info@frouwkjesmit.nl
Thank you for visiting our website. We are a cross-disciplinary festival and artist in residency platform that takes place in different cities worldwide. Our core is in facilitating cross disciplinary exchanges that; encourage the building and sharing of knowledge, strengthen the arts, connect cultures and the Celebrating of a Culture of Cultures.

We see the arts as a catalyst for change innovation and human advancement and thus welcome partnerships with institutions, companies, people working in creative industries and or individuals interested in promoting and strengthening cross-cultural artistic exchange.

So visit us again in order to stay up to date on our activities. You can also connect with us by becoming a friend on Facebook, LinkedIn and Twitter. If you wish to join our Network or receive our newsletter please send us a mail via our contact page.

Thank you!
IFAA 2012